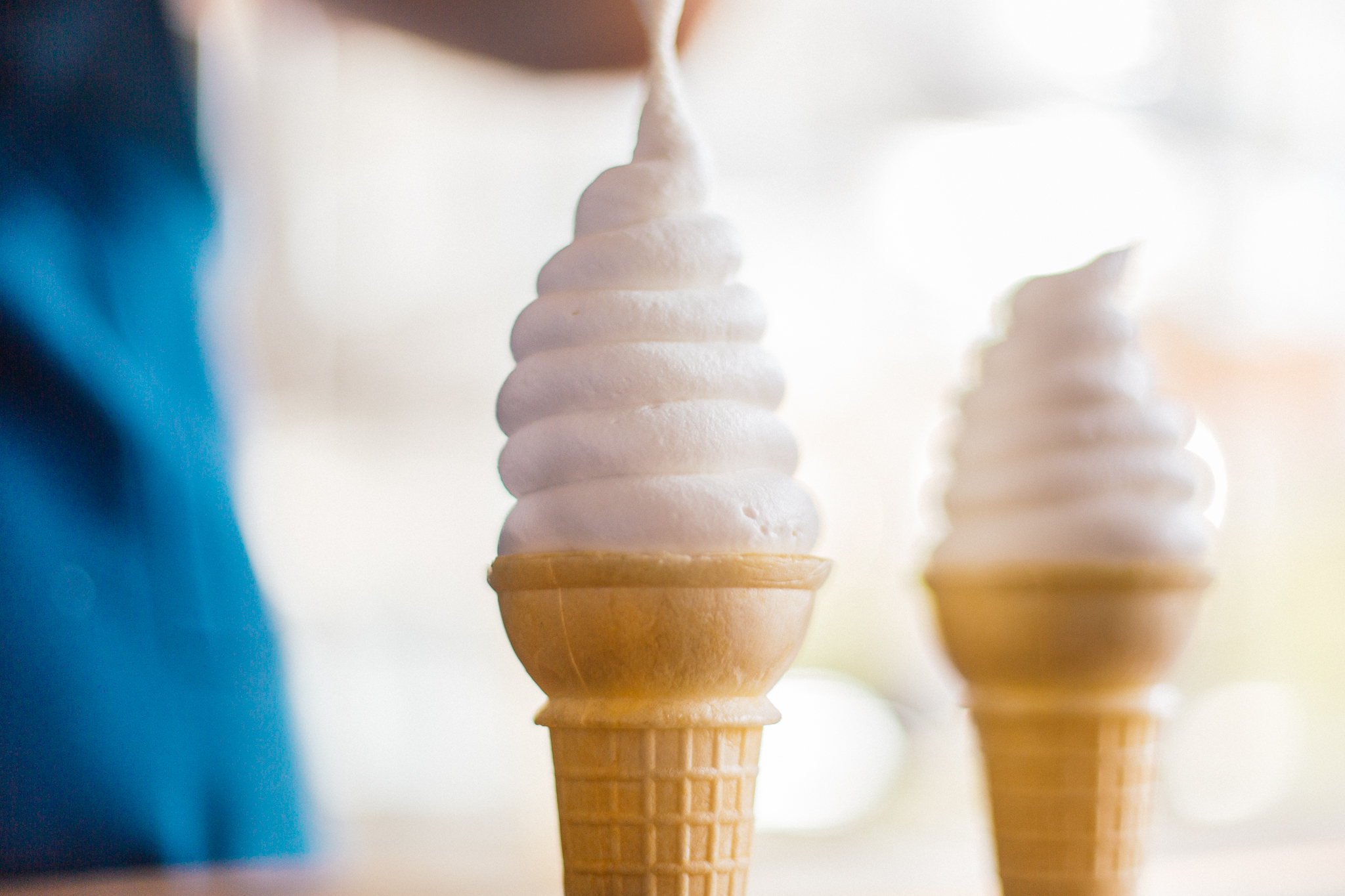 If you're one of the millions of people in the world who eat ice cream, then you probably already know the difference between a regular hard scooped ice cream cone versus a soft serve on a cone. The creamy richness of a soft serve makes it undeniably different from its cousin. Soft serve first made its debut in Great Britain and its been putting smiling on faces across the world ever since. 
       Its no secret that if you add soft serve to your menu, you're sure to bring in a hefty amount of profit-- and for cheaper then you might think. Check it out:
So what about soft serve makes it so irresistible? 
     Its slimmer! Part of the reason soft serve ice cream is so creamy and fluffy is because it doesn't have a high milk fat content compared to hard ice cream. Its truly the healthier option. 
   Perfect for toppings! There's no better ice cream than a soft serve if you like toppings. Roll your dessert in ANY batch of crumbled toppings(sprinkles, nuts, cookies, fudge, fruits, purees, etc.) and see how perfectly topped your creation turns out. 
     Its creamier! Its like eating flavored whipped cream. Need I say more?
     It can swirl! Its the only ice cream you can swirl with two flavors for the perfect cone.
     Everyone loves them! Its a familiar dessert enjoyed by people all over the world. No matter where your business is located, everyone is sure to know how tasty soft serve is. Adding it to your menu is just another way to bring in more customers. $$$
       If you own a restaurant, deli, or convenient store adding a soft-serve machine to your menu can be very rewarding for your profit margins.
 offers multiple models for a smooth transition into the soft serve industry. 
Check out the Electrofreeze SLX500 Gravity Twist Freezer With VQM
-Meets ADA Specs for self service applications
-Innovative Solutions providing the best product quality in the industry.
-Precision dual Smart control monitors temperature and Consistency to provide superior taste and quality.
-Multi-Function LED display with manager smart tools.
-Superior low temp refrigeration system provides best in class production and product quality
-Compact design with a small footprint
-Twist feature will dispense two separate flavors or equal combinations of both
-Self closing handles eliminate waste
-Patented auger gently blends reducing agitation and maintaining product quality and consistency
-Durable polymer, long wearing non reversible blades offer lower maintenance coasts and better product quality
-Simple to operate and easy to clean
-Experience Tells- Electrofreeze has been manufacturing quality frozen treat machines since 1929. SUperior engineering, product innovations, sturdy construction, quality craftsmanship and dependable performance are Electrofreeze hallmarks.
-Superior service support backed by a worldwide distributor network.
The SLX500 is the perfect yogurt shop freezer and is great for adding flavors to ice cream shops, too! Great for QSRs, retirement villages, and hospital cafeterias.
Or, check out the Electrofreeze Gen5099 Pressurized Soft Serve Freezer
Virtual Quality Management System™ monitors Temperature and Consistency to provide superior taste and quality.
• Patented Mix Transfer System* simplest and most reliable pressurized system available.
• Flexible Mix Holding System Pumps directly from bags or from mix containers
• Innovative Solutions providing the Best product quality in the industry.
• Meets ADA Specifications for self service applications
• Multi-function LED display with manager smart tools.
• The Finest Frozen Product, consistently the best frozen product available. Smooth, creamy and profitable.
• Self Closing Spigots prevents the mess and eliminates waste
• Exclusive Auger Design Superior low temperature refrigeration system provides the best in class production and product quality.
• Energy Conservation Mode reduces energy cost and holds product safely during non business hours
• Superior Low Temperature Refrigeration System provides the best in class production and product quality
• Scroll Compressor Technology provides increased capacity, reliability and efficiency
This pressurized 2-flavor twist soft serve machine produces the highest quality, most consistent, and profitable product you can serve. Ideal for operators that want to serve a high-quality product but don't require huge volume. This machine is perfect for co-branding concepts as well as college cafeterias, buffets, and adding additional flavors to any shop.
Now more than ever, you're free to choose. Add up all Electro Freeze has to offer, and two words come to mind: Sweet Choice! What are you waiting for? Call today!